TCPA & CTIA Compliance
In order to send text messages to customers based in the USA and Canada you need to abide by the laws of the Telephone Consumer Protection Act, known as TCPA. You also need to be aware of best practices on how a text message should look like based on the Consumer Protection Act, also known as CTIA.
This guide is meant to take you through all the things you need to know as well as show you how to configure SMSBump in order to be compliant with any rules and regulations:
• How to update your Privacy Policy texts
• How to get consent and collect subscribers
• How to include opt out info
• Further reading
In order to send text marketing and automation messages you need to have legally gathered the client's phone numbers first. When talking about legally we refer to the customer giving you an explicit "Prior Written Consent".
SMSBump offers 3 different ways for Store owners to legally gather the prior written consent.
• Opting in through the checkout
• Opting in through our subscription form
• Opting in via a keyword/textword
We will cover all these three a bit later on. Now back to the TCPA. The most important things we need to know here are:
• Customers will be receiving messages from an Automatic Telephone Dialing System (ATDS). For example our automation functionality
• Consent is not a condition to purchase. This means that customers cannot be forced registering for your text marketing program when they make a purchase
• All agreement forms must be made "clear and conspicuous" prior to customers giving consent
I Privacy Policy

The first thing we need to do is update your privacy policy. Let's go through the steps for Shopify, so if you are running any other platform you can just replicate the steps here.

Disclaimer: Even though we have worked with an attorney to help us draft our documents. We are not a certified legal advisor so we encourage you to hire or consult your legal advisor who is familiar with TCPA before pasting our legal texts.

1. Log in to the Shopify admin panel and then go to Settings -> Legal and scroll down to Privacy Policy.

If you don't have a Privacy Policy, click on Generate Sample Policy. If have a privacy policy already then proceed to the next step.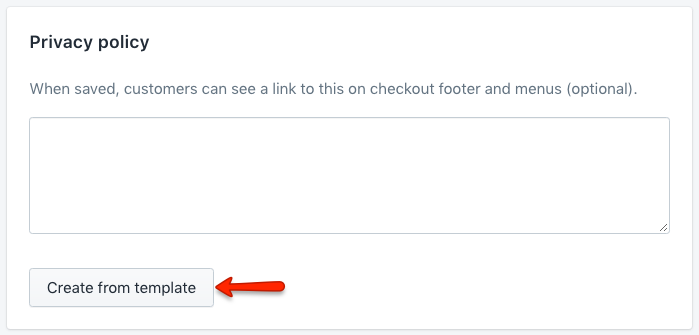 2. Edit your Privacy Policy by adding/pasting the following texts:

"Text Marketing and notifications:
By entering your phone number in the checkout and initialising a purchase, subscribing via our subscription form or a keyword, you agree that we may send you text notifications (for your order, including abandoned cart reminders) and text marketing offers. Text marketing messages will not exceed [INSERT A NUMBER] a month. You acknowledge that consent is not a condition for any purchase.
If you wish to unsubscribe from receiving text marketing messages and notifications reply with STOP to any mobile message sent from us or use the unsubscribe link we provided you with in any of our messages. You understand and agree that alternative methods of opting out, such as using alternative words or requests will not be accounted as a reasonable means of opting out. Message and data rates may apply.
For any questions please text HELP to the number you received the messages from. You can also contact us for more information. If you wish to opt out please follow the procedures above."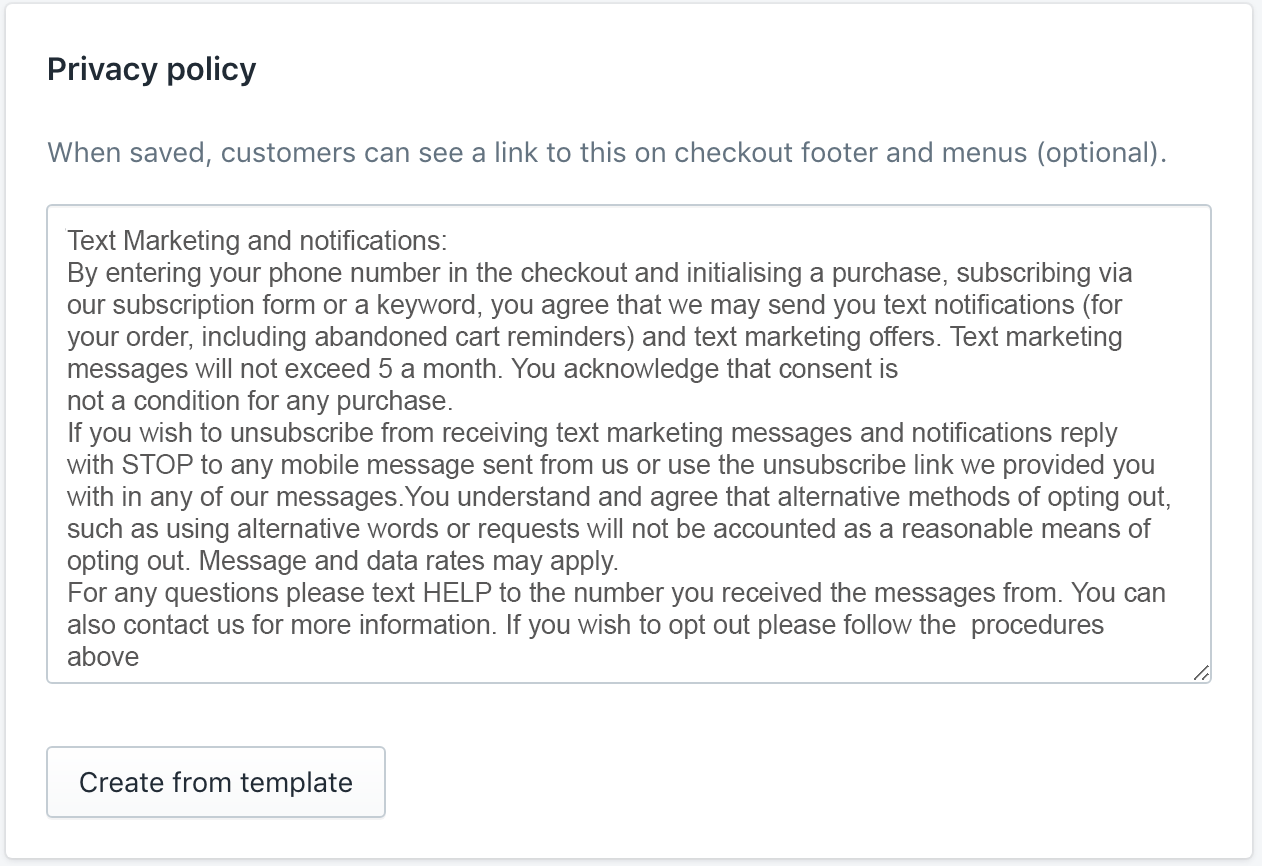 3. Edit your Checkout footer language.
Go to your Shopify Settings and edit your Checkout to click the Manage Checkout Language button at the bottom. Select the Checkout & System tab and search for the section called Checkout shop policies to paste the following text into the Privacy policy field:

I consent to receive recurring automated marketing by text message through an automatic telephone dialing system. Consent is not a condition to purchase. STOP to cancel, HELP for help. Message and Data rates apply. View Privacy Policy & ToS.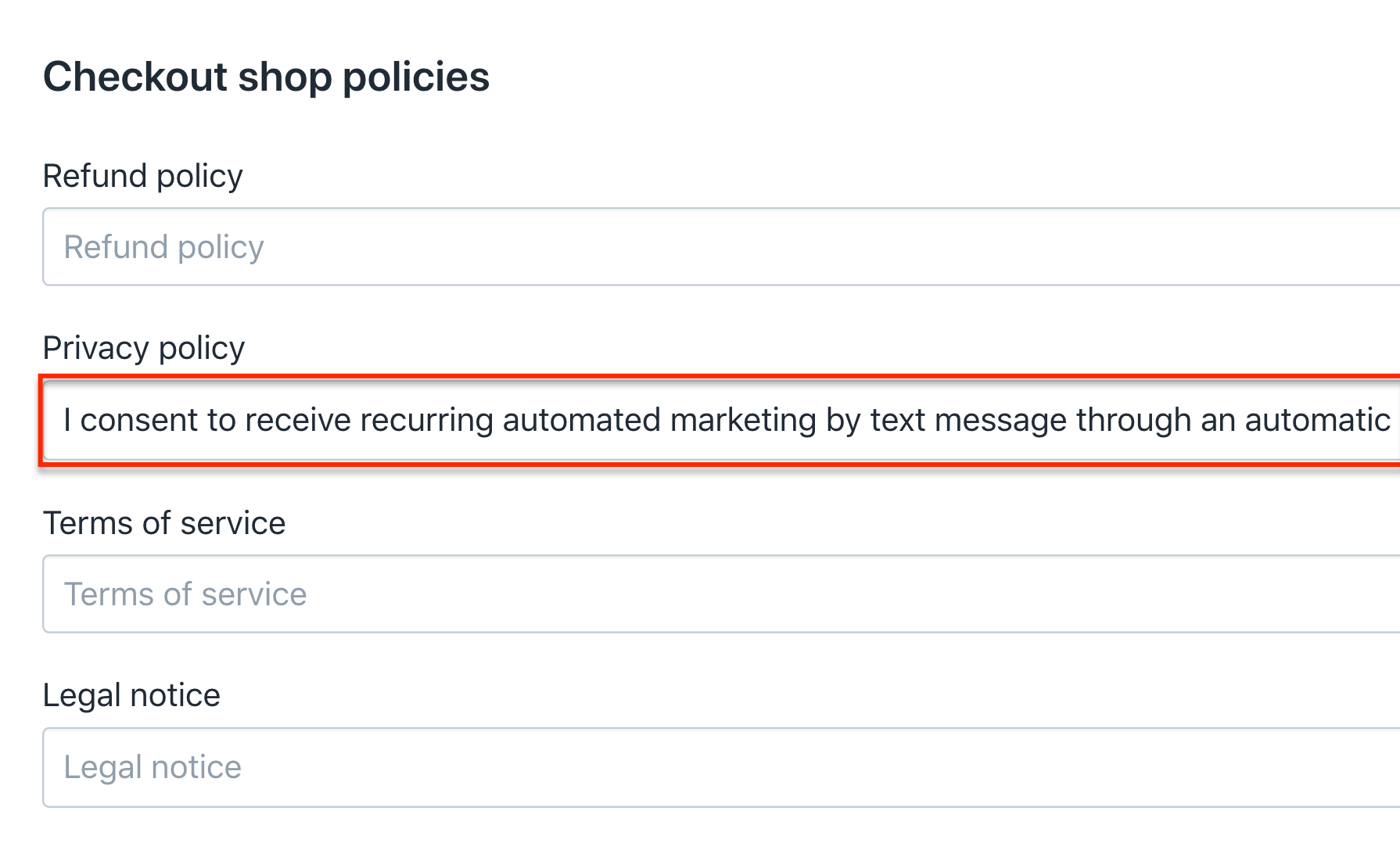 4. Confirm the changes by clicking the Save button at the top or the bottom.
II Gathering Checkout opt-ins

Now that we have edited the Privacy Policy we will show you the process of receiving consent from the Shopify Checkout.
1. Enable Accept Marketing Option
1.1 Go to Settings -> Checkout and under Email marketing select Show up a sign-up option at checkout and uncheck Preselect the sign-up option.

2. Confirm the changes by clicking the Save button at the top or bottom.

3. Search for Checkout Marketing. Below you will find Accept marketing checkbox label.
Add this text to the field:

Sign up for exclusive offers and news via text messages & email.

4. Confirm the changes by clicking the Save button at the top or bottom.

Enable Phone fields and Change Placeholder
1. Go to Settings -> Checkout and make Shipping address Phone number to be Optional.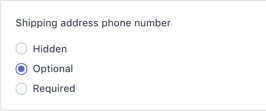 2. Scroll down to Checkout language and click Manage checkout language.

3. Find the Phone label setting. This field will be located just below the Province Placeholder.
Under Phone Label and Optional Phone Label add:

Phone number for updates and exclusive offers.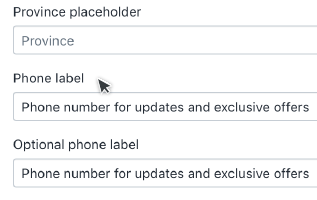 4. Confirm the changes by clicking the Save button at the top.

You're ready to go!
When you're all done, your Shopify store checkout will look like this: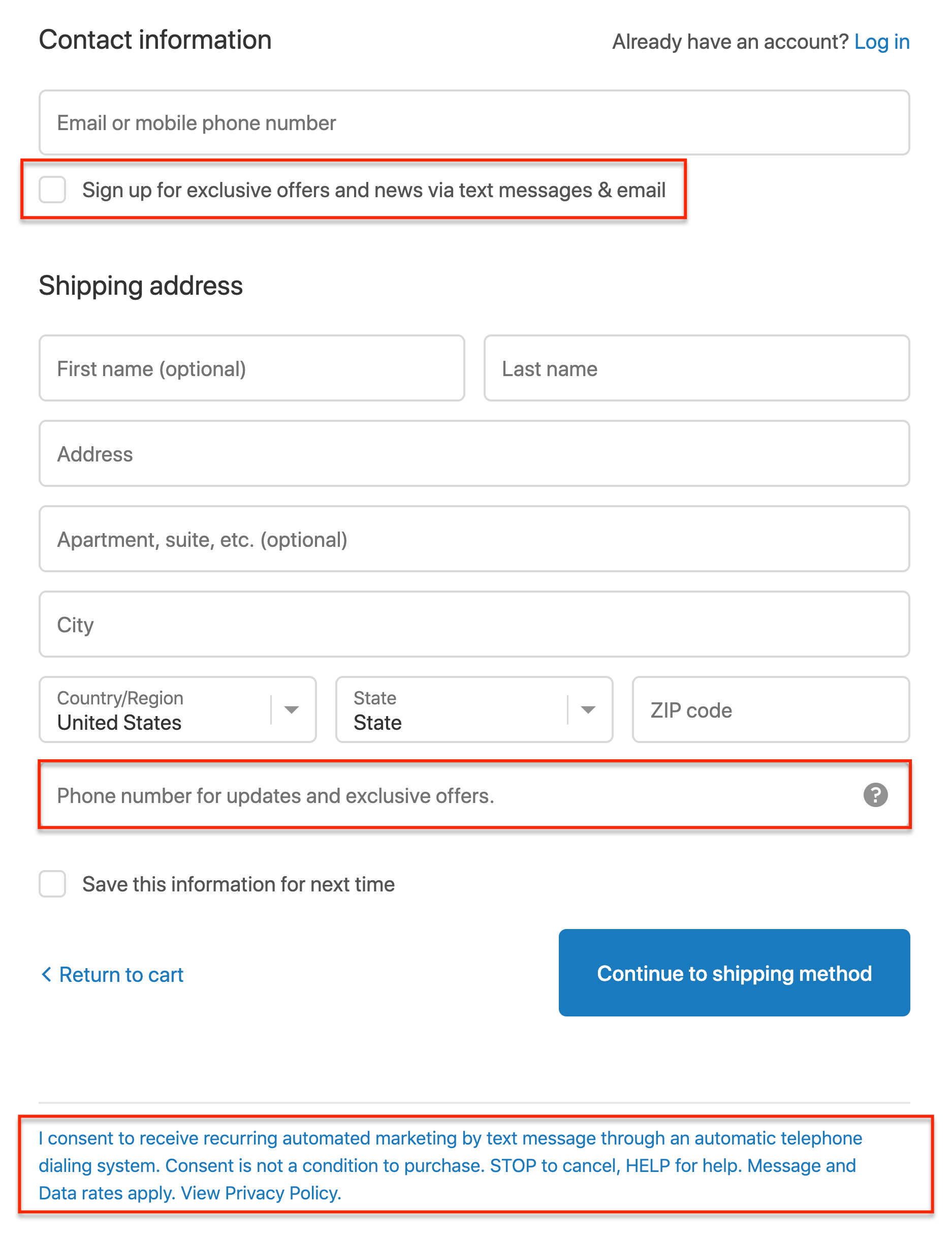 ​

Checkbox to signup for SMS marketing - Check!
Shipping phone number for exclusive offers - Check!
Privacy Policy consent footer text - Check!

III Unsubscribing clients
TCPA requires store owners to honor opt out requests.
SMSBump automatically takes care of all unsubscribes (clients who reply to messages with STOP or STOP#####, where ##### is a digit). We have also developed a system where you can manually unsubscribe clients in case they don't wish to reply back to messages but get in touch with you via phone/email or elsewhere. SMSBump also considers the national DND (Do not disturb) register when sending a text message. Our system is designed in such a way where we will NOT allow any marketing campaigns unless they contain the opt-out language.
If a client has opted out but decides to Join all they need to do is respond to the text message with JOIN.
IV Further reading
CTIA is all about providing the best customer experience for anyone using text marketing. You can get yourself familiar with their guide which includes best practices on both SMS and MMS. Link: https://api.ctia.org/docs/default-source/default-document-library/170119-ctia-messaging-principles-and-best-practices.pdf
For more info on how SMSBump features convey the best SMS practices here: If you have any specific questions you can reach out to us here: https://www.youtube.com/watch?v=UheA7yRlJ7Q&list=PLNdynjm0-3YPptMaqL0mIUdUlCatoCBLi
Last Modified: May 8, 2020