E-Commerce platforms
Everything you need to know about text marketing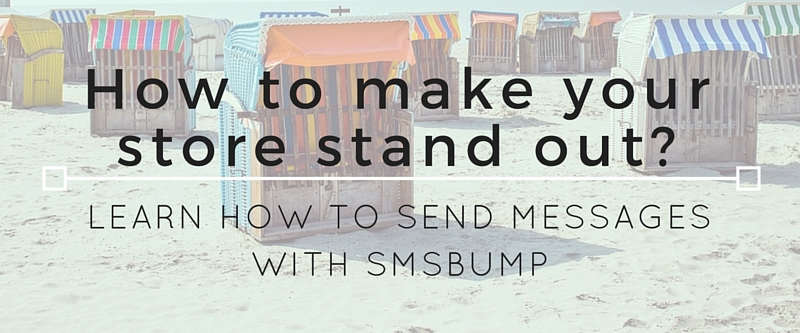 How to Send Messages Using the SMSBump Web App
In this tutorial, you will learn how easy it is to start sending text messages with SMSBump.
In one of our other posts, we analyzed the potential benefits of text message marketing for businesses.
Now it's time to put that knowledge and data to work.
The first step is to sign up in SMSBump.com and claim your Free Credits.
Once you register your account and you are good to go, you can begin sending text messages with the web app.
This is how the Dashboard looks when you are logged into SMSBump.
Let's explain what each field is and show you the step-by-step process.
Sender - this is the phone number that you have used to make your account. It's the number that messages will be sent from.
Recipients - this field lets you choose the recipients of your text message. There are two options - Specific Numbers (that can be listed in the field below) or Predefined List.
If you select Predefined List, you will see an additional field appear where you can select the list of recipients that you have to create.
We have created an Example list. The number in the brackets shows how many contacts you have in the list.
Visit Lists to create your predefined list.
Enter country and phone number - this is where you manually add your recipients.

First, you need to select a country. As soon as you pick one, the country code will immediately appear in the field below. The only thing left for you to do is to type the phone number of the recipient you want to reach and click Add.
The phone number will appear in the field below. You can add multiple phone numbers.
Now it's time to choose when to send the message.
When to send - you have two options here. You can send the message now or later. If you choose later, you will see an additional field appear.
This field has a calendar where you can choose the date when the message should be send. If you have set the date, the next step is to choose the time.
If you click on the small clock icon below, you will be able to adjust the exact time when the message will be sent.
Message - this is where you define the text message you want your contacts to receive. Make sure to have enough substance as you have limited characters to work with. Remember to be as clear and descriptive as possible.
Example:
Text 'PIZZA' to 123456 for awesome deals sent right to your phone!
Example: This is how an SMS looks like when you write it in the SMSBump web app:
And on the receiver's end:
You are now ready to start sending messages with SMSBump! In our next tutorial, we will show you how to create and manage your Contact Lists.
Mihail Savov
Mihail Savov is the content marketing manager at SMSBump. He aims to help you make the most of the SMS marketing strategy for your E-Commerce store with detailed guides, tutorials, and text message marketing tips.
Start growing today
Sign up today and join 35 000+ eCommerce businesses making it big with SMSBump