eCommerce Tips
Tips & tricks from top eCommerce experts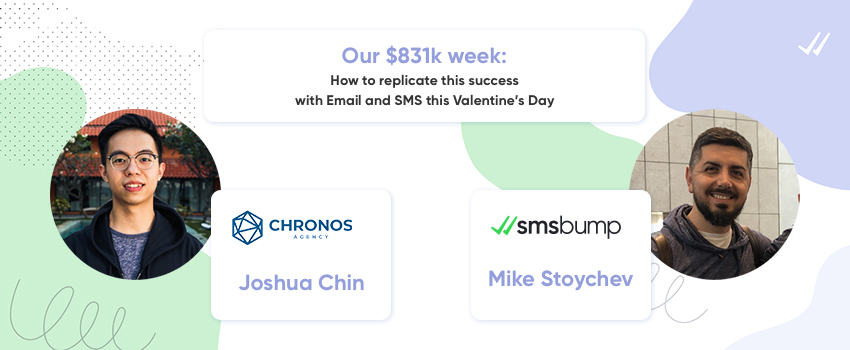 Your Ultimate 6-Step Valentine's Day Success Strategy
The Black Friday craze is long gone…
And so are the Christmas jingles…

Did you get the sales you wanted to? Yes?! Great. There is nothing better than figuring out what works best for your store...and replicate it. Just in time for the special Day of Love. Valentine's Day is right around the corner!

Mike Stoychev, founder of SMSBump, and Josh Chin, CEO of Chronos, teamed up to give you successful strategies you can count on for your Valentine's Day campaigns. And guess what - their insight is entirely based on what was successful for their clients.

In the January 8 webinar, the two focused on providing users with very straightforward ways to gain more subscribers, prepare for and launch successful V'Day campaigns, and finish strong with the help of the powerful SMS<>email duo. In just 6 simple steps, perfectly spread out in time.



And we are here to give you a recap so you are all geared up with knowledge and start 2020 with some great results!

But first, let's take a quick look at what differentiates email and SMS, and how to leverage them, both individually but as a team, as well.

SMS and Email - two sides of the same (marketing) coin
More and more we are starting to hear how email and SMS will start "competing".

Well, Josh and Mike both believe that there is enough room at the eCommerce table for both marketing channels. And people who aren't taking advantage of SMS and email together, surely need to think twice.

Your emails and SMS can target different audiences, with different offers and message copy.

Email allows for greater customization of every element - from visuals, font text, size and type, to text copy and length. It lets you give a bit more context to your offer, maybe even attach a file, embed a video or any other form of media you think might help advertise your brand. Emails are great for people who use desktop computers to do their shopping.

SMS is a bit more intimate. This is why customers expect your text messages to be more personalized and non-intrusive. SMS doesn't let you go too wild with the customization but that's the beauty of it - you have about 160 characters (the size of 1 standard text message) to say the most important things, and grab your customer's attention. It is quick, easy, and there is almost no way your SMS will go unnoticed with the whooping 99% open rate.

One thing both founders emphasize is the importance of compliance. The fact that somebody opted in to receive email notifications from you doesn't mean that they also want you to send them text messages, and vice versa.

Led by the desire to respect customer privacy, both companies provide clients with a variety of tools to help them gain subscribers, maintain a healthy relationship with them and only send relevant deals and information.

And in the next 6 steps we will recap how you can do just that and break the stats this Valentine's Day.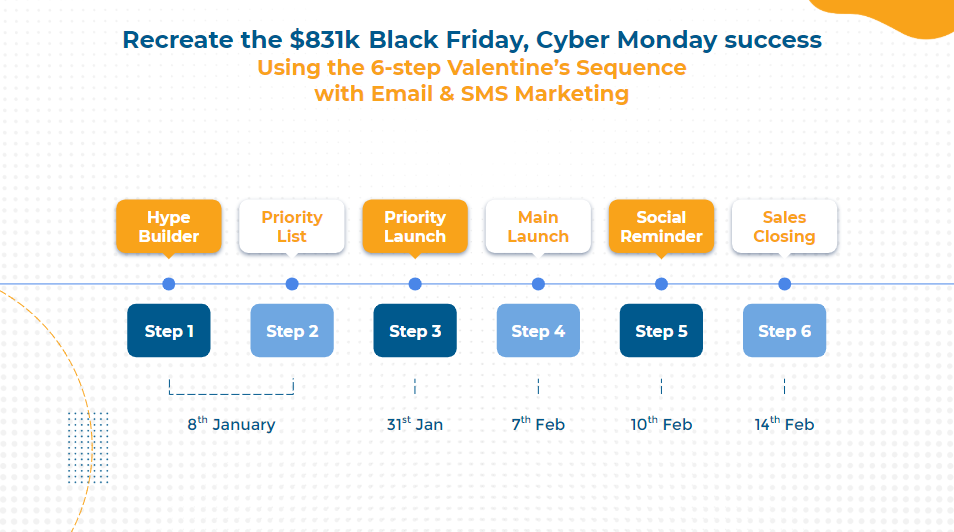 Step 1: The Hype Builder
The purpose of teaser email campaigns is to create anticipation among your customers or audience. You want people to feel curious and excited about what's coming soon. Make them feel that you are releasing something big and unique, and you are inviting them to be a part of a very special group that will only get very special offers. And will get them a month earlier than everybody else, in the very beginning of the new year.

Showcase your best-selling products and have them be eager about what's to come next.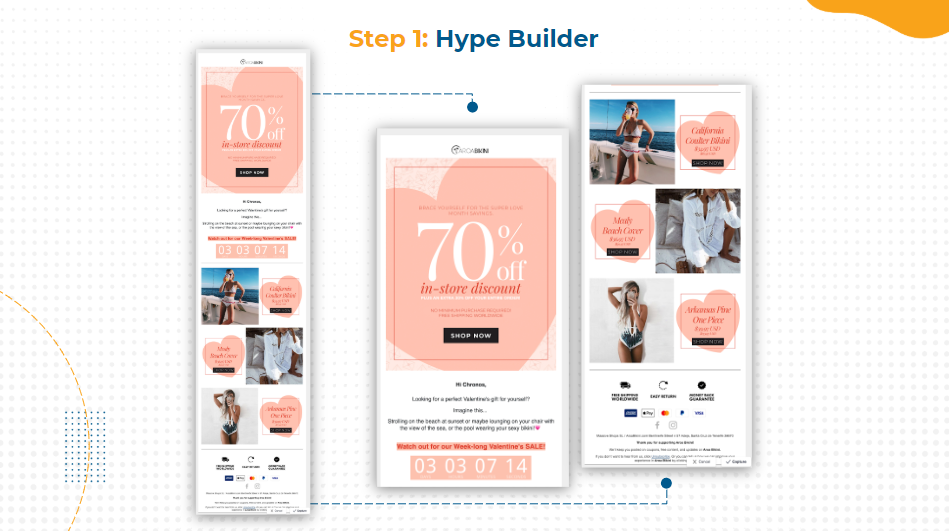 At this stage, when you are first announcing your upcoming Valentine's Day sales, Josh advises users to rely mainly on email because of its flexibility. This channel of communication allows for elaborate marketing, more visuals and gives you the freedom to include basically anything within.

One tested-and-approved tool Josh recommends is a countdown timer. It increases customer engagement and helps customers self-select, whether to take part in a sale that's almost over. A countdown timer prevents unsubscription because customers know deal notifications are coming up.
Step 2: Priority List Build-Up
The last weeks of January are a good time to boost your subscribers list and build your Priority List of customers who will receive your offers first.

Carefully crafted pop-ups and keyword campaigns are the great way to do so. Add a little something for your customers and you will see those numbers in your lists growing.
Mobile pop-ups
One of SMSBump's mighty tools is the mobile-only pop-ups which make subscribing very easy. To opt in, visitors need only to tap on their phone screen, unlike regular pop-ups which require filling out different fields, making the process tedious.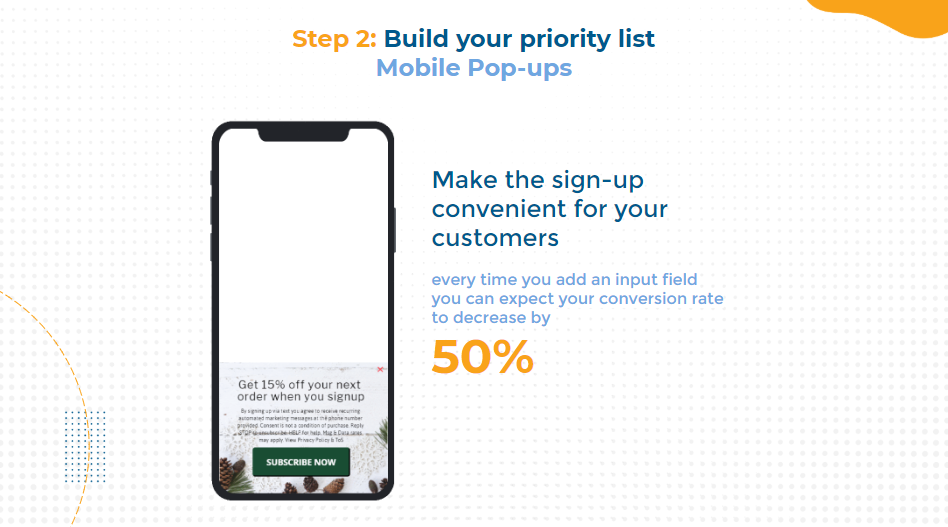 Besides being speedy, the mobile pop-up's strongest suit is that it provides for a seamless transition between where a user starts their experience with you and where they get all the content they subscribed for. They opted in for your service using their mobile and will be receiving deals from you on the same device.

On the other hand, Josh and Mike are both fans of exit-intent pop-ups which are very effective for desktop and tablet users. To maximize conversion and the effectiveness of your popups, propose a special offer to keep visitors interested and stop them in their tracks.

Segment Personalized Pop-ups
This Klaviyo pop-up type helps stores be very on-point with the offers they give to their visitors or customers, or the products they advertise. Chronos has had massive success with these segment personalized pop-ups which are able to identify different groups of people and appeal to them with just the right visuals, copy and deals, based on their individual preferences.

Remember that the more you invest in providing personalized experience, the higher the chances your efforts will result in sales.
Keywords
Keywords are so versatile - in all ways imaginable, and are another effective growth tool you can use to draw attention to your upcoming campaigns. Select a word that fits your brand and product, but try to avoid general keywords like YES, OK, GO, SHOP, OFFER, DISCOUNT, CLUB, JOIN.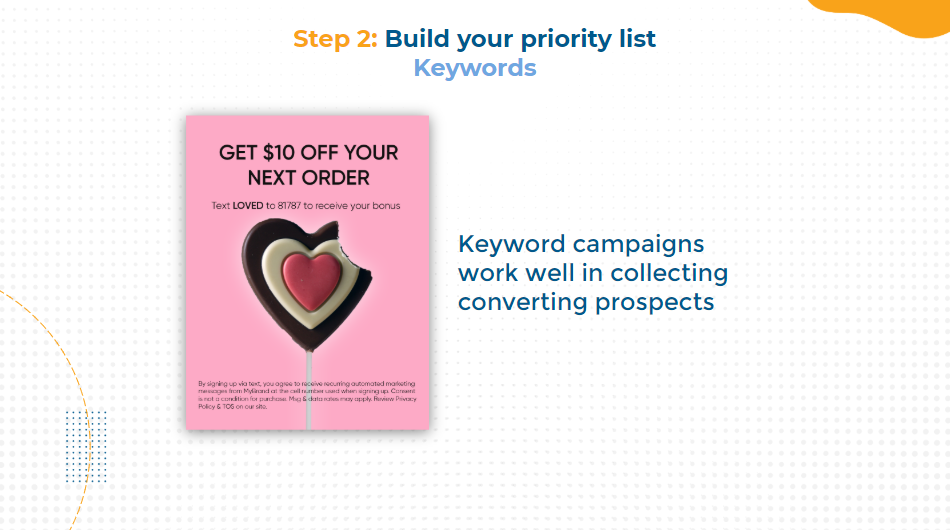 Textwords, which is another name for them, can be used in Instagram stories, in TikTok, as a Facebook cover, Pinterest pin, during networking events such as trade shows, even for offline purposes - like banners, billboards and posters.

But they are majorly useful when it comes to converting email subscribers into SMS subscribers, especially if you are just now starting out with SMS and want to redirect part of your users to text marketing.

What better time to do this than right before you send out your first Valentine's Day promo for 2020?
Step 3: Priority Launch
Much like how business class people get to board the plane first, your early birds and loyal customers should get to be treated with your most exclusive offers. Don't wait for Valentine's day to come to launch your campaign. Start in the beginning of February so you give them enough time, after all you want them to receive their presents in time, right?

What does this mean exactly?

Valentine's Day is when people go out of their way to make sure their loved ones get the most wonderful gifts. Sometimes they need a little bit of help with their decision, though. This is when gift recommendations really come in handy and can separate you from the rest of the stores which perhaps haven't gone the extra mile to put together a list with girlfriend-approved items.

This is especially true for your early birds, who want to plan out their V'Day shopping so they get THE BEST on the market.

Don't disappoint them - send them an email with all of your love-inspired items, that you know will ignite the fire. Complement your email priority launch with a breezy SMS that further emphasizes the exclusivity of the offer - after all, you are inviting only your early birds and very loyal customers to the pre-Valentine's party.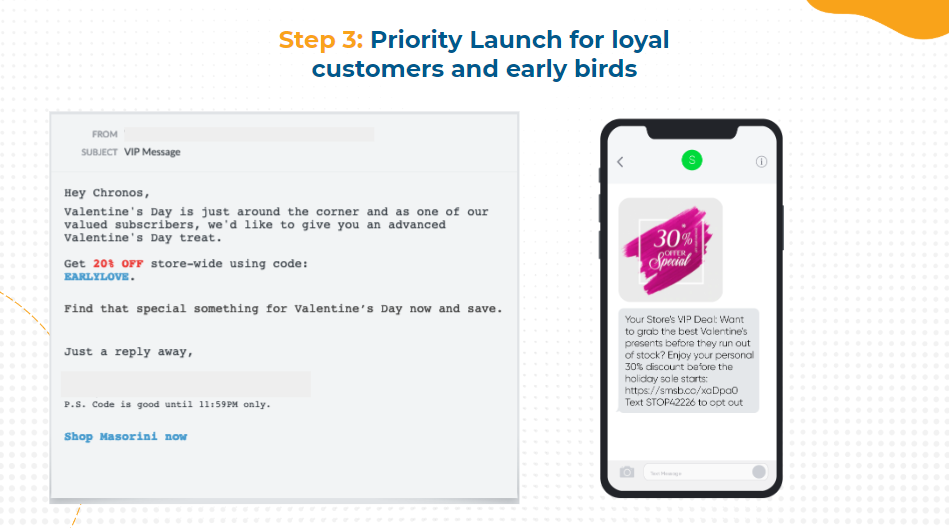 Step 4: Main Launch
Fast forward several days: It's the week before Valentine's Day, and it is all hands on deck. It's your Main Launch - the time has come to target everybody on both your email and SMS list. No exceptions.

Both Mike and Josh recommend that you pay extra attention especially to your most active customers - or those who purchased from you either on Black Friday or from your Christmas promos.

This is the best time to use all of the insights you got from your Black Friday A/B testing (if you haven't - pin it for next year), and send out the most effective text messages that you know will drive conversions up. What Josh's team found out from their A/B testing is that the emails with product recommendations included converted more, as they gave customers ideas and direction.

In terms of the SMS part of it, Mike emphasized that it is very important to tickle your customers' every sense - their sight, their feel of need, their sense of time, and their desire to score a good deal. And before you ask - yes, all this is achievable via text messages.

A stunning image of the product you are selling, combined with a call-to-action that taps on your customer's fear of missing out, and a juicy, but time-constrained discount, surely is the winning combination.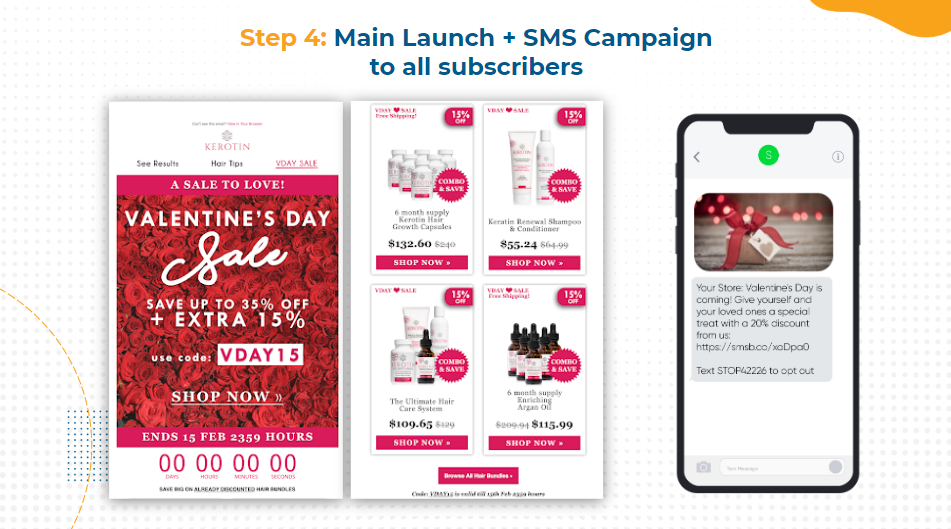 Step 5: Social Proof
Word-of-mouth is still the most effective way of marketing. It's other name is social proof. Here you integrate the inspiration aspect of shopping with your eCommerce brand to influence your customer's buying behaviour.

Josh advises merchants to focus on customer testimonials, videos or the number of highly notable figures who are using your brand, or even showcase awards and press mentions. This is especially successful if your target audience is between 18 and 34 years old, as 84% of this group relies on online reviews when deciding where to buy from.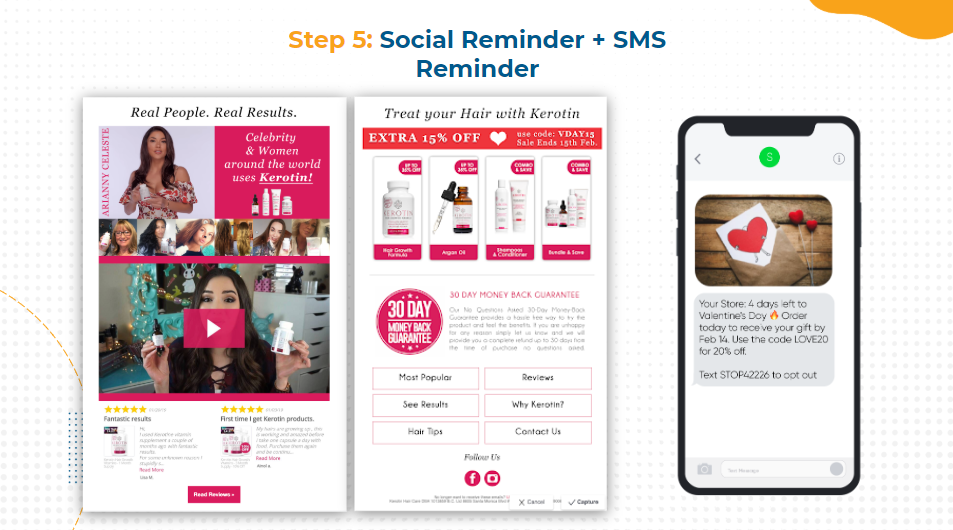 Sweep away any objections your customers may have had in their minds by doing this over the weekend or a day after the Main Launch to push some last-minute buying. Remind them that they only have a limited amount of time and should act quickly.

Keep in mind that the main target audience you want to reach are subscribers who either didn't see your first email, or those who saw it but didn't act on it, and give them a nudge to buy now before the eleventh hour.

Remember: you are already ahead of the game if you send your customers an email reminder in between the Main Launch and the Final Countdown. So good job!

SMS reminders work very well to increase sales by reminding customers about your current offers. These are the key tricks to make your SMS reminder even more effective:
Increase sense of urgency: say how many days are left until the event.

Emphasize timely delivery: this is often the make or break factor, which can drive people to buy online, as opposed to from a B&M store.

Add FOMO: elements like stock levels or time limits promote more sales.

Step 6: Closing Sales
This is the "Now or Never" step, where you really have to emphasize your last-second sales. And the best way to really get under your customer's skin is to use text-based emails together with SMS.

Text-based emails are straight to the point, and drive people to "act fast, act now". And so do SMS.

Every other trick in the marketing book is valid here, too: urgency, FOMO, personalization and good (better) discounts. But try and be extra brief this time.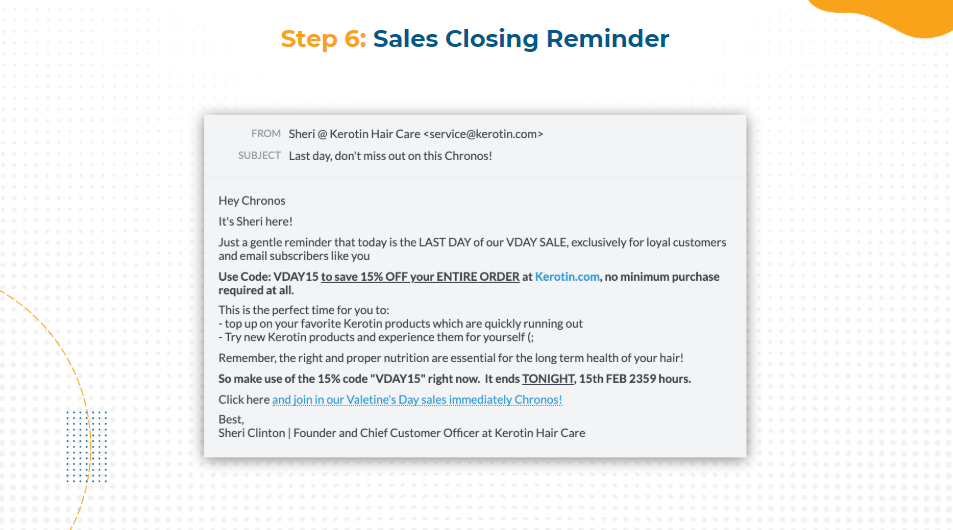 Get the 6-star Love from Your Customers
Incorporating this 6-step comprehensive text and email marketing for your Valentine's Day campaigns will surely win your customers' hearts.

Listen to the entire webinar to get some of the other secret gems that Mike and Josh are giving away. And don't forget to share your success with us!
Viktoria Philbrick
Viktoria is a Content Creator at SMSBump. Besides writing for work and pleasure, she is an avid foodie, a big fan of Stephen King, and enjoys spending time at the beach.
Start growing today
Sign up today and join 70 000+ eCommerce businesses making it big with SMSBump