eComm Event Guides
Get inspired for your next holiday marketing campaign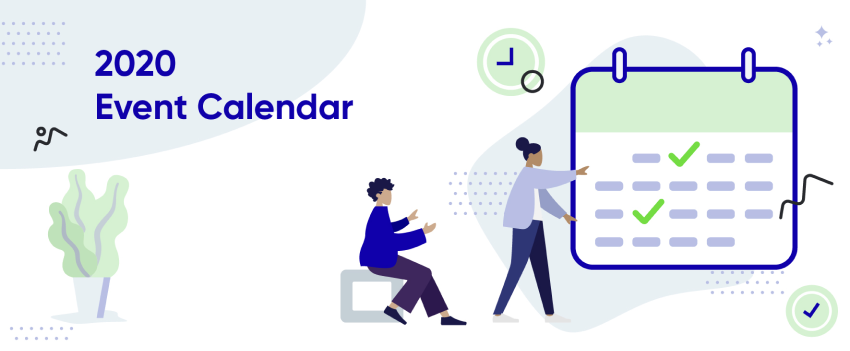 Never Miss An Opportunity with Our 2020 eComm Event Toolkit
As customers' attention is shifting steadily towards shopping mainly online, it's getting harder for merchants to stand out from the competition especially when new stores are popping out every day. To be successful in the eComm world you need to be constantly exploring new and creative ways to reach your audience.

One way to do this is to explore the world of SMS and reach customers on their phones. In 2019 mCommerce accounted for 53% of all eCommerce sales - a definite increase from 34.5% in 2017. Business Insider actually predicts that in the next five years mobile will surpass desktop, and will turn into the preferred channel for online shopping.

So to get you prepared for this year's biggest eCommerce holidays, we've put together a practical event guide which will give you all the occasions in 2020 which you can seize to reach out to your SMS subscribers with special deals. Our findings could be your starting point and help you get through 2020 without stressing out (too much).
February 14: Valentine's Day
Valentine's Day is the first major eCommerce holiday for the year. In the US alone, more than half of the people actively buy presents for the Day of Love and they are not limited to just spending on their significant other. Customers would also buy presents for themselves, their kids, close friends, and even their pets. Research also shows that men spend significantly more than women, and that is something to keep in mind when reaching out to your customers.

On top of being one of the holidays that attracts the most traffic to B&M stores, Valentine's Day drives a lot of online sales as well, which go beyond flowers and jewelry. About 28% of people do their buying online, with half of them saying that they'd used their phone for that.

To put things into perspective with some quick math: the US population is 329.45 million, and about 165 million of those will be purchasing something, with about 24 million of them doing it through their mobile device.

SMS campaigns are a great way to reach a big portion of your subscribers, especially if you are a store specializing in candy & sweets, flowers and jewelry. Make sure that you start at least 2 weeks in advance so your customers get their orders in time; advertise boldly, use images where red is the primary color, don't go easy on the discounts, but be brief when it comes to wording. You are targeting mainly men and (especially if they forgot to get a present) they want no fluff, so just go straight to the point. 160 characters should do a great job. ;)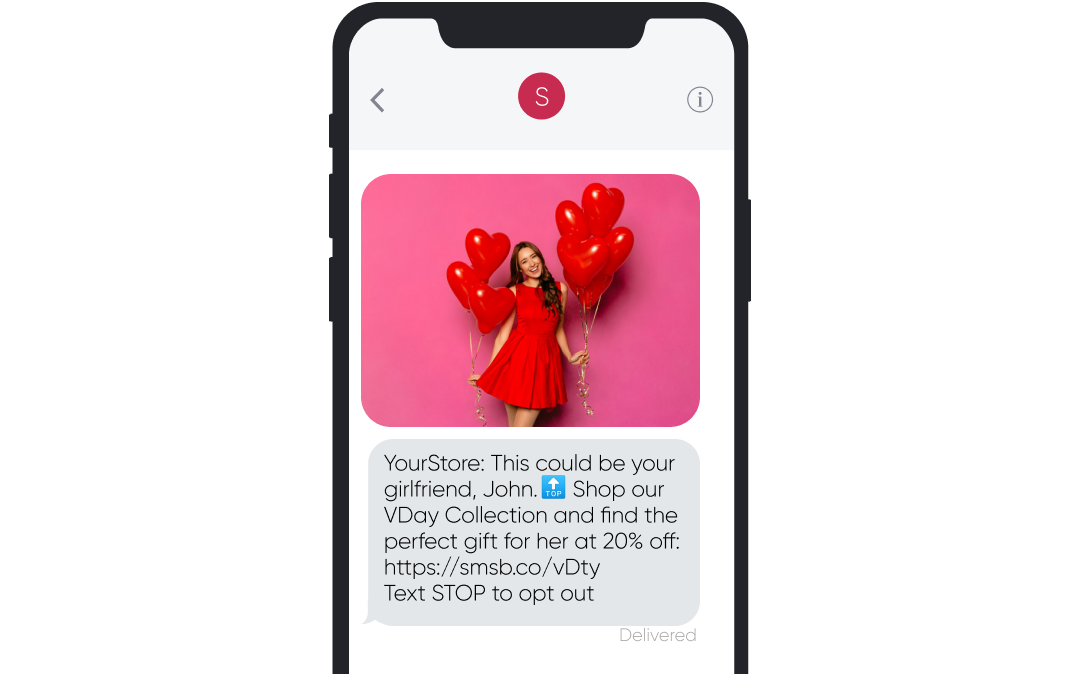 May 10: Mother's Day
Mother's Day is hugely celebrated all over the world, sometimes - on different dates, but ultimately: it brings in lots of sales and accelerates revenue growth. In 2019, in the US alone, more than 80% of people said they planned to do something special for their mothers, expected to spend north of $25 billion.

Being so popularly celebrated, there has never been a better time to step-up your marketing plan to ensure your brand doesn't blend in. This is especially valid for stores which specialize in selling jewelry, cards & flowers, and gifts that create memories, which are among the top three categories that attract the most buyers.

But also: since Mother's Day is such a special occasion, store owners should put extra care into personalizing the customer experience with curated offers. Think about building a special Mother's Day collection that would have something for a woman of any age, and directing your customers straight there - they'd appreciate the ease-of-use and the suggestions, especially since hunting for presents can be a daunting task.

Also, it is good to know that more and more people (34%) are turning to subscription-based gifts for their Mother's Day shopping as they'd like their mothers to feel special all-year-long. What's more, subscription boxes are so versatile: from beauty products to kitchen gadgets, there are options for any type of mom.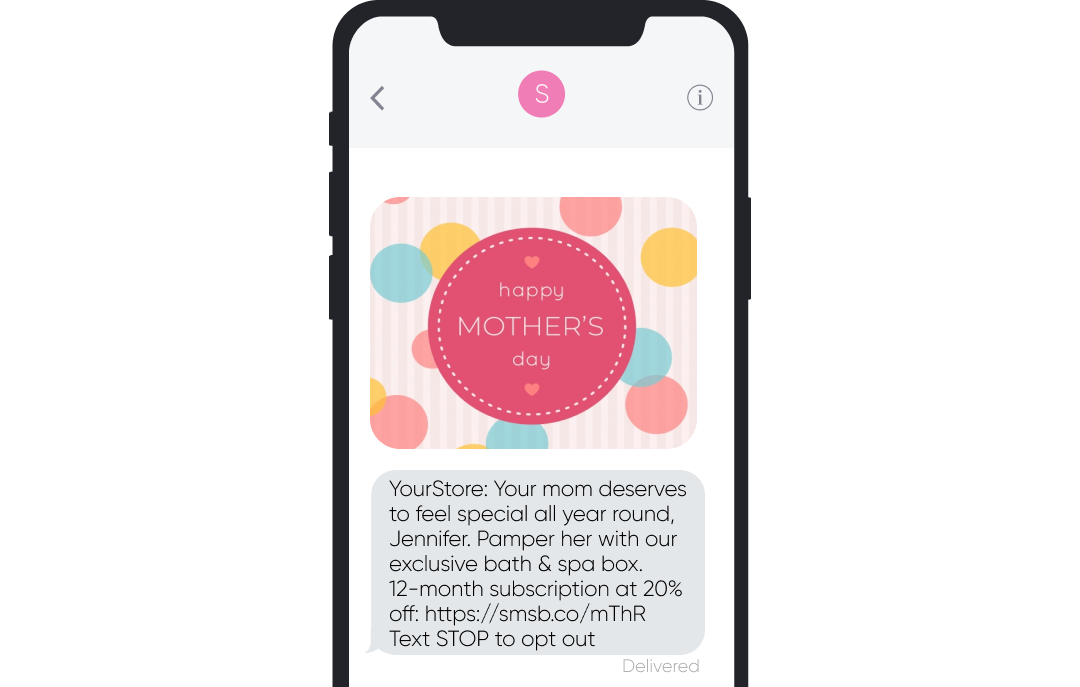 Check out some of our suggestions on how you can craft the best messages that will make all sons and daughters realize your products will make the best Mother's Day gift.
April 12: Easter
Last year it was predicted that 8 out of 10 American adults will celebrate Easter, spending an average of $151 per person. Even people who didn't plan to celebrate the holiday were attracted by the seasonal sales. Regardless of age or interests, most holiday activities revolve around cooking a holiday meal with the family and spending some quality time with your relatives and friends.

Easter is the perfect moment to put all of your eggs in one basket and have an eggcellent early-bird spring sale, especially if your online store sells kitchen appliances, home decor, flowers, Easter-themed gift baskets & candy etc.

If you are going for multimedia text messages, bet on spring colors to make your images pop: green, yellow, and other mellow tones that will bring warmth to your customers. Make sure to customize the copy of your text message so it reminds of the holiday season and promotes your Easter offers to the best of its strength.

If you need some inspiration boost, check out Easter bunny-approved templates that you can just copy, paste, and fire up.




Research shows that Easter sales more often than not extend past the holiday itself, with major sales also happening in the first week after. This could be a great opportunity for you to clear some shelf room, and offer even greater discounts on your Easter merchandise for all those late-buyers who might have missed out on your deals this year.
May 25: Memorial Day
Memorial Day is an American-bound holiday, in honor of all those who passed away in service to the US Armed Forces.

In retail terms, this used to be a holiday devoted to mattress sales, but in recent years it is considered as the day that marks the beginning of the summer season. And what does that mean? Switching wardrobes, family barbecuing and lots of travelling.

In 2019 43 million Americans were predicted to kick off the season with some shopping, ranging from summer clothing and mattresses, through electronics and other gadgets, to refrigerators and large appliances.

One thing you should definitely keep in mind when it comes to Memorial day: all stores can benefit from this day. No matter if you are an online-only store, or have a physical location, a general or one-product store: you should be well-prepared on all fronts because Memorial Day weekend brings in a great influx of shoppers, expecting across-the-board discounts.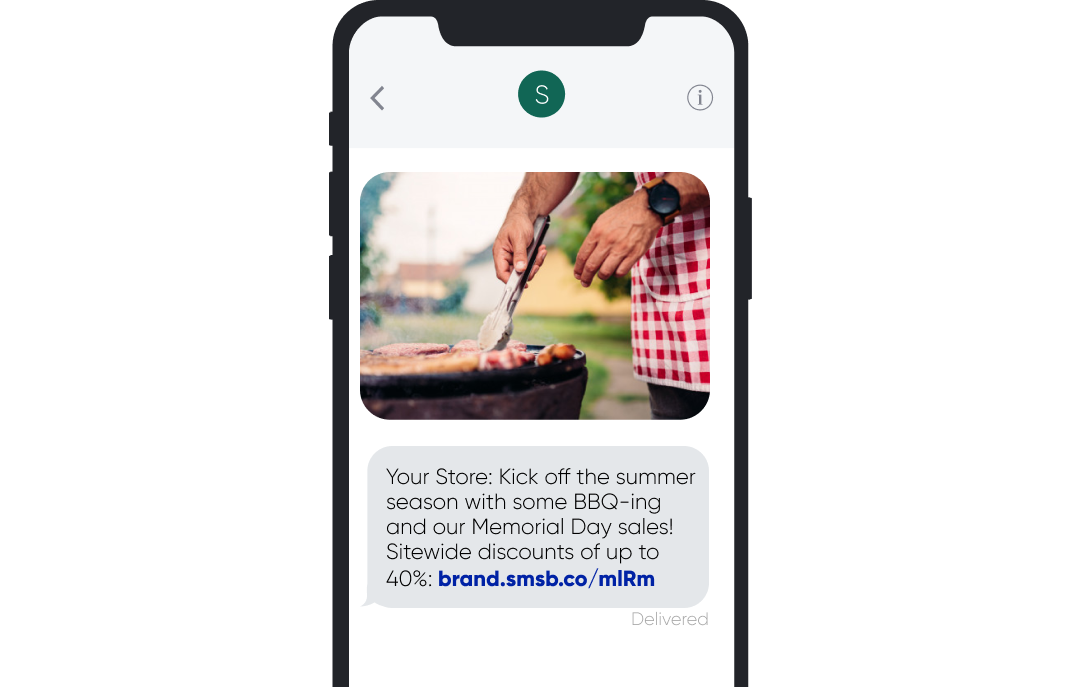 Here are some examples you can take a look at for inspiration before you start your Memorial Day campaign.
June 21: Father's Day
Although sales on and around Father's Day are twice less than Mother's day, the holiday is growing in popularity every year and so are purchases.

Products of interest for this particular holiday are gift cards, clothing, electronics, personal care items etc. And the ultimately popular gifts for the occasion are neckties and socks.

Father's Day is predominantly popular among daughters. They also tend to spend 50% more on gifts for their dads and loved ones, than males. Definitely facts you should keep in mind when tailoring your offers and text messages.

For your Father's Day campaigns make sure to emphasize the exclusivity of your offers, inspire customers with expressions such as "your dad deserves the best", "treat your dad like a king", "give your dad a gift he will always remember" etc., remind them they have this one day to make their father feel really appreciated and loved, the way he deserves.




Get a hold of some of our text message openers and help your customers melt their dads' hearts.
July 4: US Independence Day
The 4th of July is the most important day in American history up to modern days, celebrated by more than 85% of the nation.

But there is more to the 4th of July than just having a blast watching fireworks and eating delicious BBQ. There's great eCommerce opportunity, considering that in 2019 close to $7 billion were spent on food, grilling supplies, fireworks and other celebratory items. With this in mind, you might want to consider optimizing your inventory and focusing your text marketing on such collections.

If you are planning on starting your 4th of July campaigns early on (after Father's Day), you can benefit from our mobile-only opt-in forms to give a boost to your subscribers. They are highly customizable and only require two taps on the phone screen for users to subscribe for your text marketing club.

With a powerful copy, touching on their pride and the importance of celebrating this day, a strong image reinforcing your call to action, and a good incentive, made exclusive just for this particular holiday, mobile visitors will quickly opt in to receive messages from you. Thesе subscribers you could enter in your early-bird list and provide them with the best deals. First come, first serve.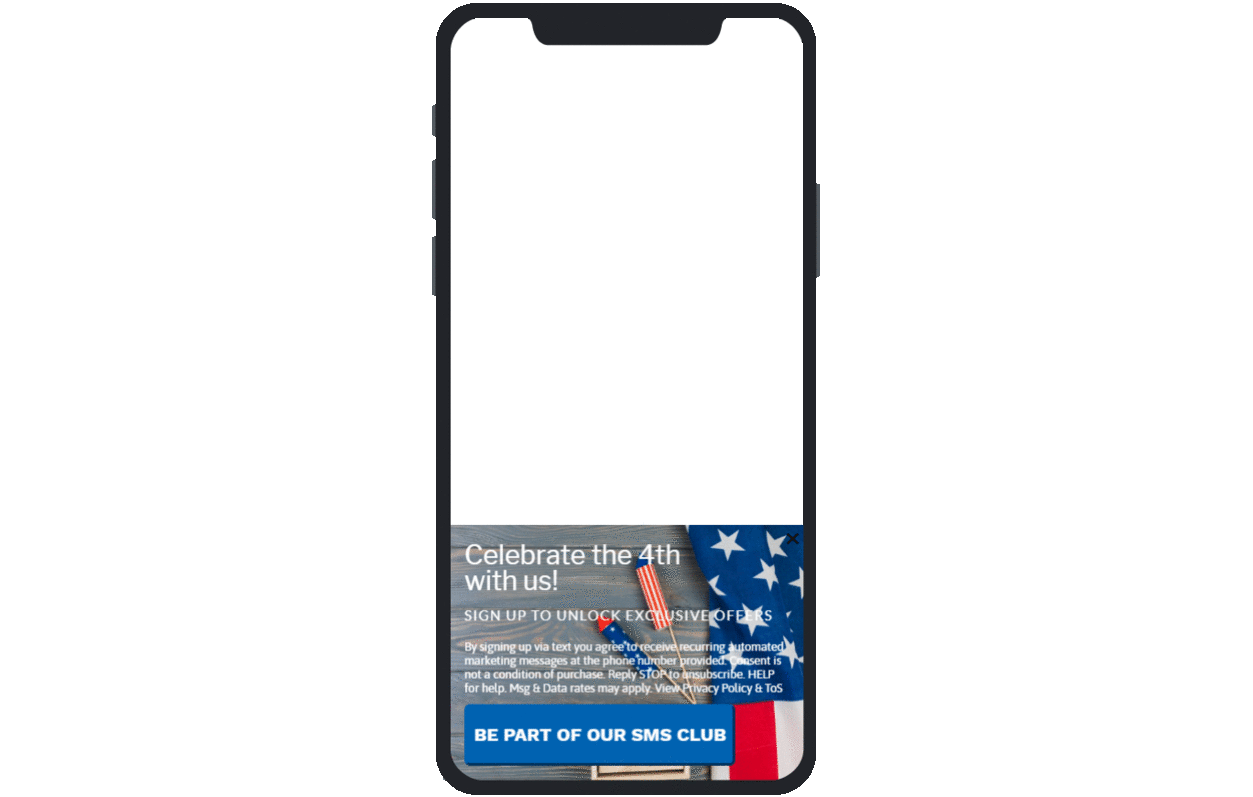 Speaking of, refer to our 4th of July SMS templates you can copy and paste, and turn into the most successful text marketing campaign for this important holiday.
September: Back-to-School
The first two weeks of September is when kids all around the world return to the classrooms, filled with summer stories to tell their peers, and lots of energy for another school year.

In 2019 more than 56 million students attended elementary, middle, and high schools across the United States. And guess what: all these students have parents, relatives, or other responsible adults that are even more excited about the first day of school than them.

What does the new school year bring for most students? New clothes and shoes, backpacks, notebooks, school supplies and everything else you might think of as a necessity to start the new school year. It's an exciting and hectic period for both parents and kids, trying to get the very best of all school merchandise, but also beat prices.

To blow the competition out of the water and get the most customers in early on, some stores offer incentives in the very beginning of summer to jump-start sales. Starting this early is especially valued by families with multiple children who are looking to save up as much as possible. If you want to keep them coming back for more, though, don't blast out a store-wide sale just yet. Entice them with weekend deals on specific items, and don't forget to emphasize limited quantities to get them in the "now-or-never" shopping mood.

However, if you want to grab your last-minute buyers, make sure to extend your sales until the weekend after the first school day. This is the perfect way to clear up some shelf room by putting some low-volume items on clearance, and giving customers only a limited amount of time to act on your great offers.

And since back-to-school promotions don't just cover one or two items, but stretch out to a variety of products, make sure to always have an active up- or cross-sell promotion running. This way, if a mom bought a backpack for her son but skipped on gym shoes, you can nudge her to reconsider with a small discount on a complimentary item. This is a great opportunity for you for three reasons: you show your customer you care by taking the extra step; you have the potential to score bonus sales; lower your inventory.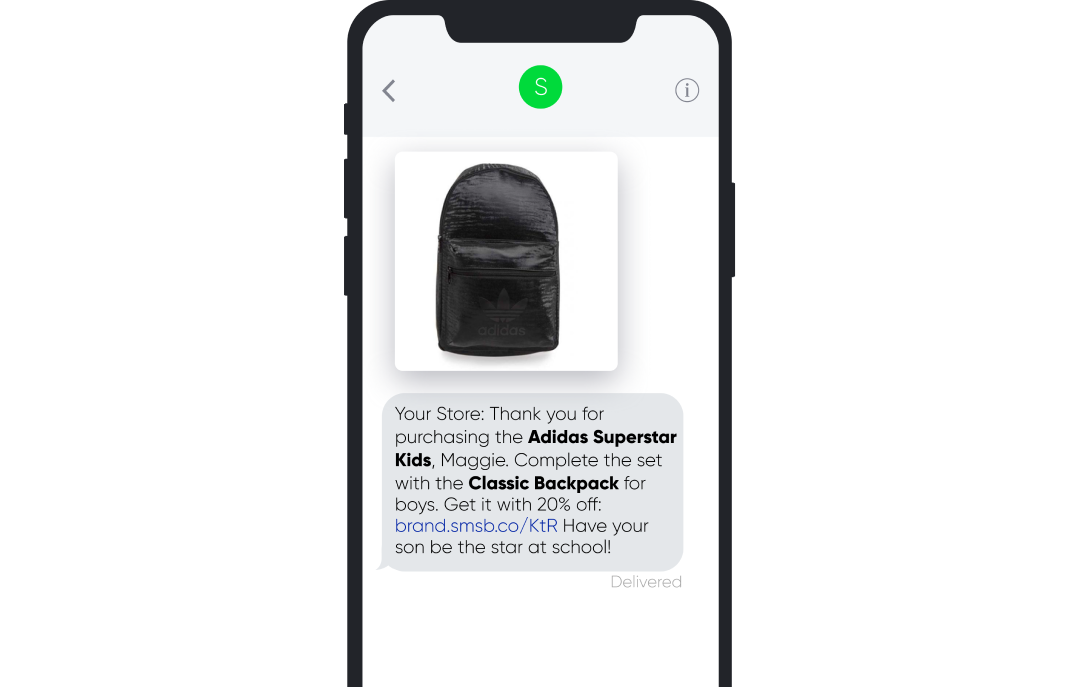 Stay tuned for our upcoming back-to-school SMS templates that will have parents running through the halls of your online store.
26 - 30 November: Cyber Week
Cyber week is what eCommerce merchants prepare for all year. Starting with Thanksgiving on November 26, going through Black Friday, Small Business Saturday, Super Sunday, and finishing with Cyber Monday, these 5 days, put together, accumulate the most sales for retailers without a doubt.

On Thanksgiving Shopify merchants reached peak sales of $671,000 per minute globally at around 3 p.m, 65% of which came from mobile, with apparel and accessories sales dominating, followed by health and beauty.

In 2019 digital Black Friday sales reached a new peak of $20 billion, with mobile attributing about 50% of those. In the US alone, Black Friday online sales reached $7.4 billion, with $2.9 billion of those happening on smartphones. After the Black Friday craze, Cyber Monday scored even bigger, with sales in the US alone equalling $9.2 billion, up by nearly 17% from $7.9 billion in 2018.

It's all hands on deck when it comes to Cyber week. What does this mean? You need to go extra heavy on all marketing. Try to be as specific as possible, be extra creative with your discounts, try to appeal to your customers on a personal level and offer them deals on items you know will definitely interest them.

Start well in advance to grab all customers who like to get the holiday shopping out of the way early and avoid elbowing their way through the crowd right on Black Friday. One way to make sure all your customers receive only the best and most relevant offers from you is to dive in careful segmentation. With SMSBump you have close to infinite ways you can build segments, based on different characteristics, ranging from personal attributes, through your customers' shopping habits, location, to individual preferences and many more. Segmentation is crucial, especially when you have three major shopping occasions crammed so close to each other.

Starting early has another advantage as well: it allows you to test out different campaigns. You can mix and match various copy with different types of discounts (free shipping, percentage or fixed amount), test out what visuals work out best for your target audience . This way you will make sure that when time comes for the most important push, you will have the most effective and converting text message reach your customers.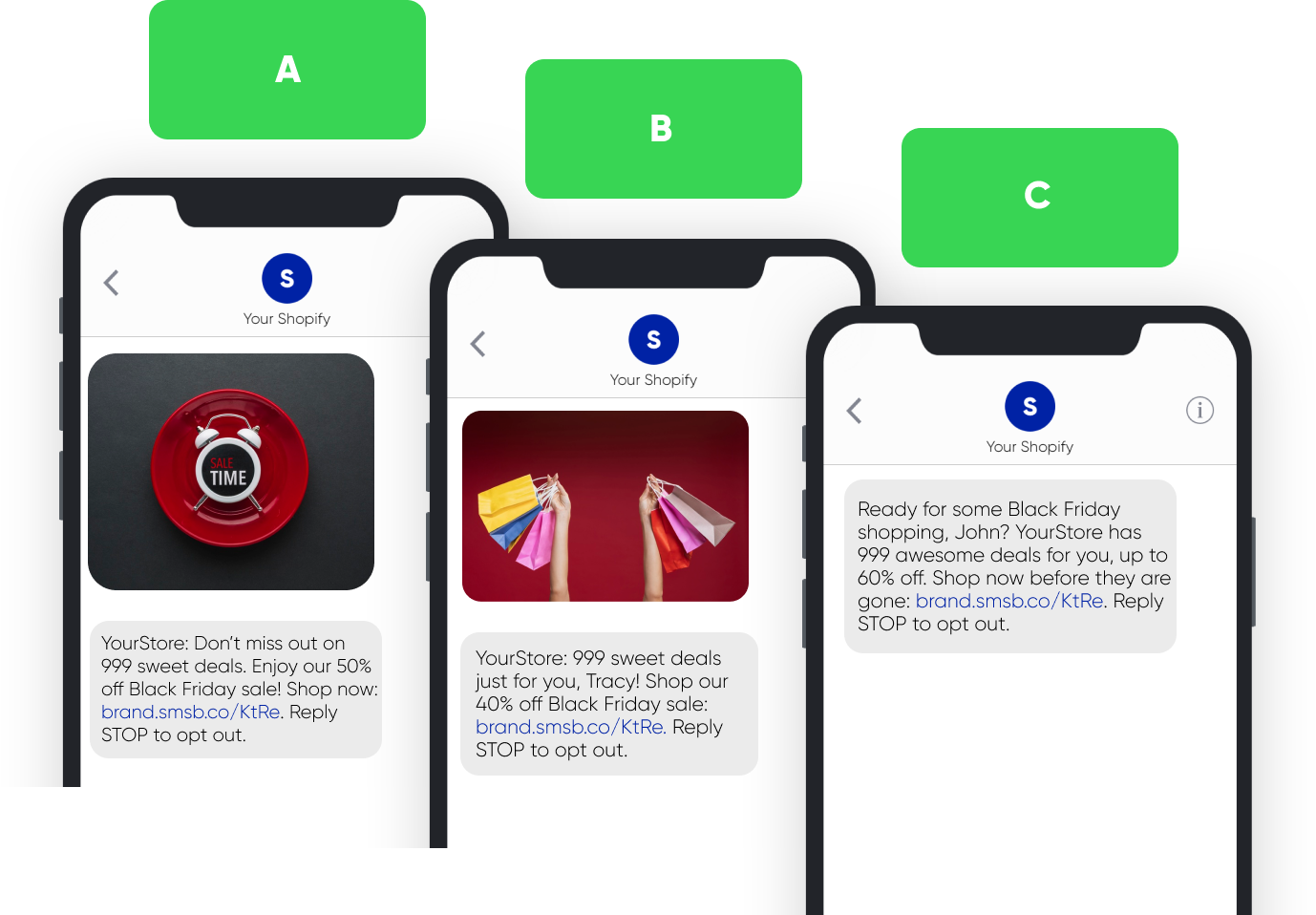 Starting early will also help you put together a strong list of subscribers that would like to receive your exclusive deals. SMSBump gives you plenty of options to build your base - interactive keywords, a powerful email converter, highly-editable pop-ups and embedded forms. No matter which way you go, make sure to let them know what they should expect when they sign up for your text marketing. And what's that? Great offers of course!
25 December - Christmas

Christmas is an all-in or out holiday, and among the most important retail days some stores wait for all year.

Christmas sales have been on the rise for the last 10 years and more. In 2010 the total amount spent on gifts just in the US was $528.8 billion, as opposed to 2019, when the total holiday retail sales in the US reached over $1 trillion.

Among the most important factors that influence a customer's decision whether to buy his or her Christmas gifts from an online store or a physical location, is delivery time and everything related to shipping (cost, speed, convenience etc.). In fact, the second Monday of December (also known as Green Monday) is the last day customers can order their presents online and still have them arrive on time.

What does this mean for retailers? It means that you have about 1 second to take a deep breath after Cyber Monday, before you have to start gearing up for Christmas.

But worry not - statistics still show that more than 40% of holiday sales happen between December 15 through the 24th.

No matter what, make sure to optimize shipping and delivery, offer expedited shipping if possible, and try to maintain a constant communication with your customers. We might not be able to help you with the shipping optimization, but using direct means of communication such as live chat will help you connect better with your customers, answer their urgent requests quickly, and keep them in the loop about their orders. Did you know you can do that via SMS, too?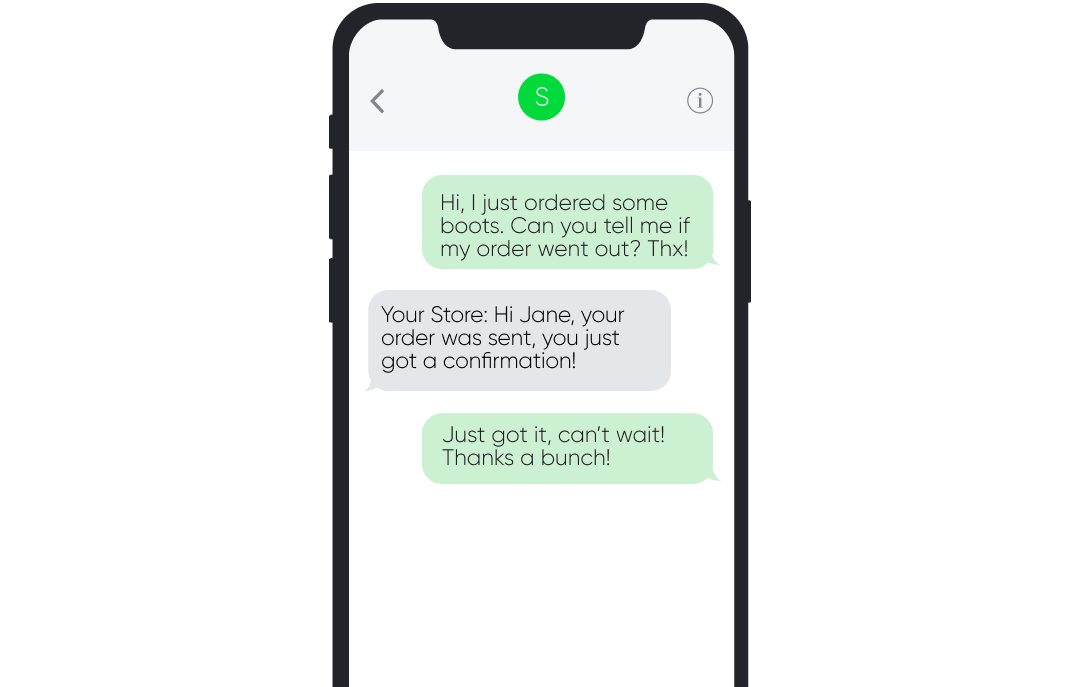 Last but not least, to help them with their decision, create collections based on the different people they might be buying presents for - child, mom, dad, significant other, friends etc. Promote these collections with appealing images in your SMS, focusing on the time period, and the appropriate colors and themes. Get inspired by our Christmas-themed SMS templates.
26 December - Boxing Day
December 26 is just as monumental a day as Christmas itself, some people even refer to it as the second Black Friday. It is especially popular in the US and UK, with the latter expected to spend upwards of £4 billion on their Boxing day shopping last year.

Nowadays, Boxing day has become a synonym of post-Christmas laziness, watching sports on TV, cold turkey… and bed-based online shopping.

Being primarily an online holiday, Boxing Day is the perfect chance for eCommerce merchants to reach their customers via SMS. Especially if you emphasize that your offers are entirely there for your customer to indulge in. Why is it important to focus on providing them some "Me" shopping? Because they are exhausted from shopping for all of their relatives and friends, and what's more - they might have not gotten what they wanted for Christmas this year. But you are there to show them they can self-treat themselves to a sweet present with an even sweeter deal.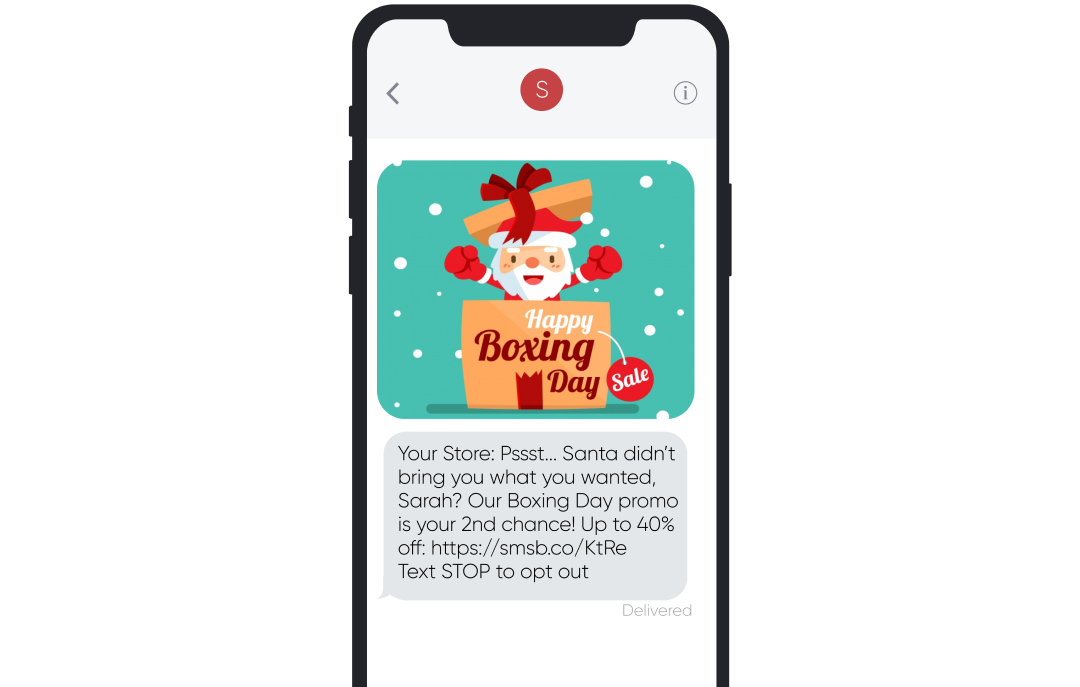 An important thing to note when creating your Boxing Day campaigns: try to not put too much focus on the discount you are providing. At this point, after Black Friday, Cyber Monday and Christmas, customers are experiencing the so-called "discount fatigue" and you are risking being ignored. Instead, try to make your offer stand out with a rich personality, make them see that you really thought out what you are offering them, based on their personal needs and wants.
2020 Will be Your Year!
We are hoping that this event calendar will guide you through 2020 and will help you plan out your year, optimize performance and ultimately: have a sales blast!

Stay tuned for our SMSBump team has a lot up its sleeves for this year. And if you haven't yet considered text marketing, it's never too late to hop onboard.

Viktoria Philbrick
Viktoria is a Content Creator at SMSBump. Besides writing for work and pleasure, she is an avid foodie, a big fan of Stephen King, and enjoys spending time at the beach.
Start growing today
Sign up today and join 70 000+ eCommerce businesses making it big with SMSBump