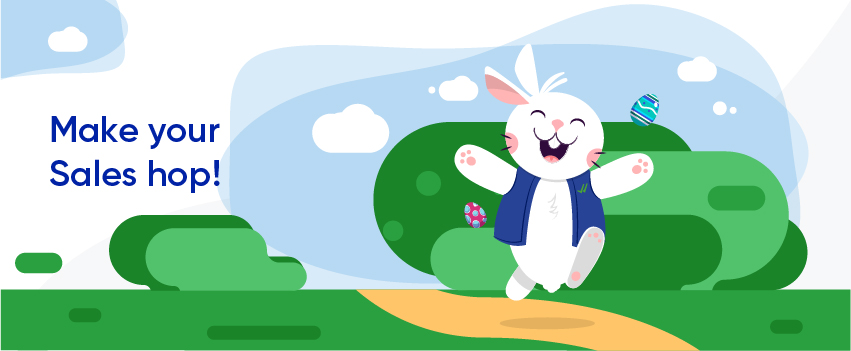 SMS Strategies to Increase Your Sales This Easter
The last days of March officially mark the beginning of the spring season and what better time to plan your next marketing campaign?
Now is the time for brands to initiate the spring cleaning of all piled inventories and announce the Big Easter Sales!
We have prepared some effective marketing strategies for you to stand out from the crowd and clear some shelf room for the new summer items!

Smart Targeting
Easter is one of those holidays celebrated by almost everyone. Pandemic or no pandemic, an average of 80% of all American adults are determined to mark the occasion, so make sure your store reaches them with exciting offers and Easter specials.

While you might be excited to engage with your entire list of SMS subscribers, still make sure to send the right offers to the right target audience. Visit your Lists & Segments section in the SMSBump app and leverage the power of segmentation to build separate audiences based on a variety of characteristics, such as personal attributes and behaviour, order information and purchase frequency, even location, gender and more. Then target your individual segments with relevant offers that will maximize chances of conversion.
To give your message an even greater personal touch, use your customer's name . A little joke might also make people feel connected to your brand.
Don`t forget to put an engaging call to action (CTA) and a link that leads directly to your store. Around big holidays customers get tons of promotional materials and it is very important to put your store name in text messages so they know who is reaching out to them.
But besides having the right offers and audiences (and message), it's important to time your Easter campaigns and spread them out in time. Yes - campaigns, plural. Don't limit yourself to just one SMS outreach this year!

Smart Scheduling
What does "smart scheduling" mean exactly? Some shoppers plan ahead and will want to catch the possible early-bird promotions. Others tend to make last-minute purchases. So how can a campaign possibly match all their expectations and behaviour/time tables?
What you need is a solid strategy and SMSBump in your Shopify store!
Schedule your first campaign 1-2 weeks before Easter and target your early-birds.
Not sure who they are? Those are people who subscribe before big holidays and make purchases before the major retail events. Once again, you can easily set them apart with the help of our segmentation filters.
Your early-bird campaign should use words such as "priority" "early spring sale" " before everyone else" to give customers that extra pinch of exclusivity and nudge them to act on your special offers.
To get the most out of your Easter sales, launch an additional campaign a several days after Easter. Target customers who might have missed your earlier sales but might still be interested. You can sift out your last-minute shoppers with segmentation filters such as "Clicked or purchased from a past campaign" and configure the segment to include only subscribers who clicked on a link but didn't actually proceed to ordering - obviously you intrigued them enough to browse, but not enough to purchase.
For best results, make it clear that the discount will expire soon which will add a sense of urgency and will encourage them to make a purchase sooner.
Launching 2 additional campaigns around Easter will not only maximize your sales, but it will also allow you to plan and manage your stock and shipments better, so it will all go smoothly in terms of ordering and delivery.
For more Easter campaign ideas, hop on over to our Best Practices guide.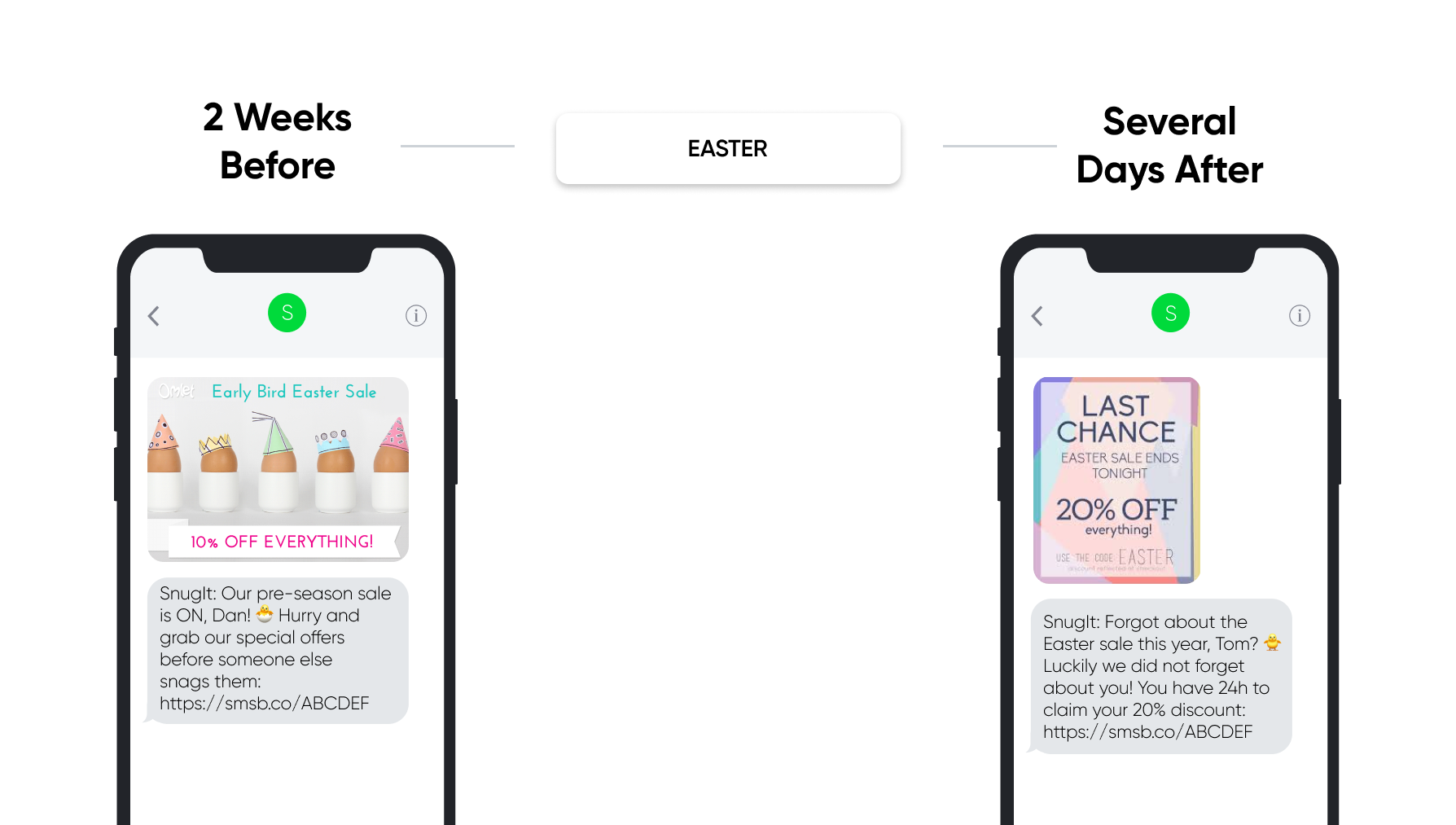 Pro tip: If you are just starting with SMSBump and you are not sure about the copy of your text marketing campaigns, then our A/B test feature will be your greatest ally. Instead of sending one version of your text, send 3 or even 4. They will be tested with a small portion of your audience and the winner will be sent to the rest. A great way to secure good results, right?
Additional Appeals: FOMO, Urgency and Scarcity
In addition to the right audience and timing, to succeed this Easter you should also up your message copy game.

When you start creating the copy of your text message, make sure it reminds of the following season and promotes your Easter offers in the most appealing and effective way possible.
One great psychological tactic is to create a sense of urgency and/or scarcity, and ultimately - give your sales a boost.
"Easter is coming", "Only 8 days left until Easter! Order now…" etc. will be a great way to introduce your discounts and create the first wave of excitement.
To appeal to your early birds, make sure to include expressions such as "grab them before anyone else", "snag our offers before others", "enjoy our exclusive deals" etc., while late-comers will be impressed by call-to-actions such as "it's never too late to grab a good deal".
Wording like "offer ends today", "you have several hours" and such will score you some extra purchases on your flash sales initiatives.
Phrases such as "finish your cart before it expires", "stocks are running low" etc. are great for your abandoned cart sequences, as they let your customers know that you are only holding off their items for a small window of time.
"Last chance to purchase", "Don't miss out on…" etc., on the other hand, will serve best as last-minute reminders for the last days of your Easter campaign.
Discount ideas
Finally, what will wrap everything together is offering the right discount - one that will not hurt your profits, but will be appealing enough to get your customers to act on it.

How do you define the "right" discount for your particular store? We have a rule of thumb we like to follow!
In case your store sells high-end items and have a higher AOV (over $100), offering a specific dollar amount as a discount is much more appealing than a percentage discount. Think of it this way: if you offer 5% discount to a product of a value $200, this translates to $10 saved. Now what sounds better to you: $10 or 5%?
A percentage discount, on the other hand, is much better for stores with lower AOV.
A third option is free shipping, which is great with upsell promotions, teaser promos, new collections. And if you throw in a free return option as well, your customers will know that you put their comfort and experience before profits.




No matter which road you take, though, be mindful with the discounts you are giving. If you have already announced your Easter sale and all the prices are adjusted, be careful not to offer too big of a discount. In such situations, additional 5-10% will do. But if you want to tease your SMS subscribers before the big sale starts, 40-50% discounts can work wonders in freeing your shelf space.
Ready, Set, Strategize!
This was our list of top suggestions for you on how to use SMS to increase your sales this Easter.
Simply test some of the options and see for yourself!
Looking for more inspiration? Check out some SMS templates for your Easter text marketing campaign.
Mariya Arabadzhieva Todorova
Mariya is a Content Creator at SMSBump with strong passion for writing, crime novels and puzzles. Travel & Gaming enthusiast.
Start growing today
Sign up today and join 90 000+ eCommerce businesses making it big with SMSBump