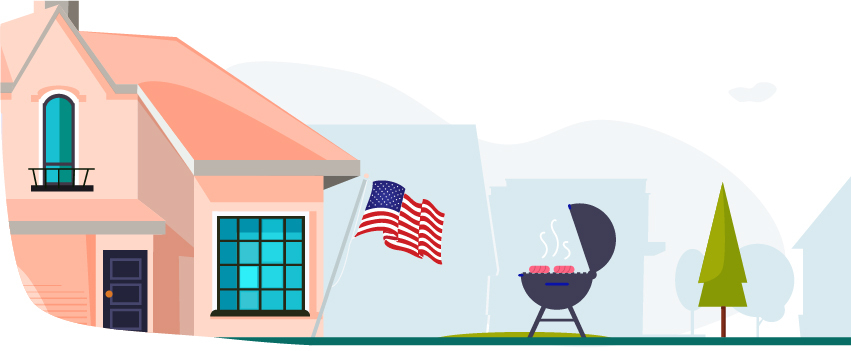 5 Ideas to Boost Sales This Memorial Day
With Memorial Day just around the corner, we decided to give you а heads-up on what to expect from one of the most important US retail events of the year - especially in terms of online sales.
Most promotions start a couple of weeks before the holiday. Even if people are staying home, they will still want to shop. So online sales are expected to skyrocket this year even further. They typically include huge discounts of up to 70% and more on outdoor items like grills, patio furniture, lawn and garden essentials. You can also see bargains on camping equipment, mattresses, TVs, laptops, and major appliances. Retailers try to stand out with major price discounts and it is important to know how to separate your brand from the rest.
Here are our top 5 ideas on how SMS can help you boost your sales and have a successful start to the summer season.
How to Boost Memorial Day Sales with SMS Marketing
Pop-Ups
Most big department stores rely on giant, flashy banners and ads to promote their latest offers. When it comes to online stores, think of pop-ups as your billboards - they are there to grab your visitors' attention, announce deals, possibly grow your subscribers list or (best-case scenario) score a sale!
And especially this Memorial Day, when online shopping is the sole option for million American families, it is very important to tailor your pop-ups to be suitable and adequate to the current events. Put additional effort when it comes to the copy - take into consideration the (still) ongoing COVID-19 situation and make sure not to sound too pushy.
When it comes to the visual part of your Memorial Day pop-up, we suggest you think about the outdoor activities people enjoy on this holiday - spend some time in the garden, throw a family barbecue etc. Inspired by that, use colors such as green, blue and yellow to help bring the vibe of the upcoming warm summer days.
Red field poppy is considered a traditional symbol of this day so it might be a nice touch to your visual. You might be tempted to use the combination of red, white and blue to show patriotism, but try not to overdo it.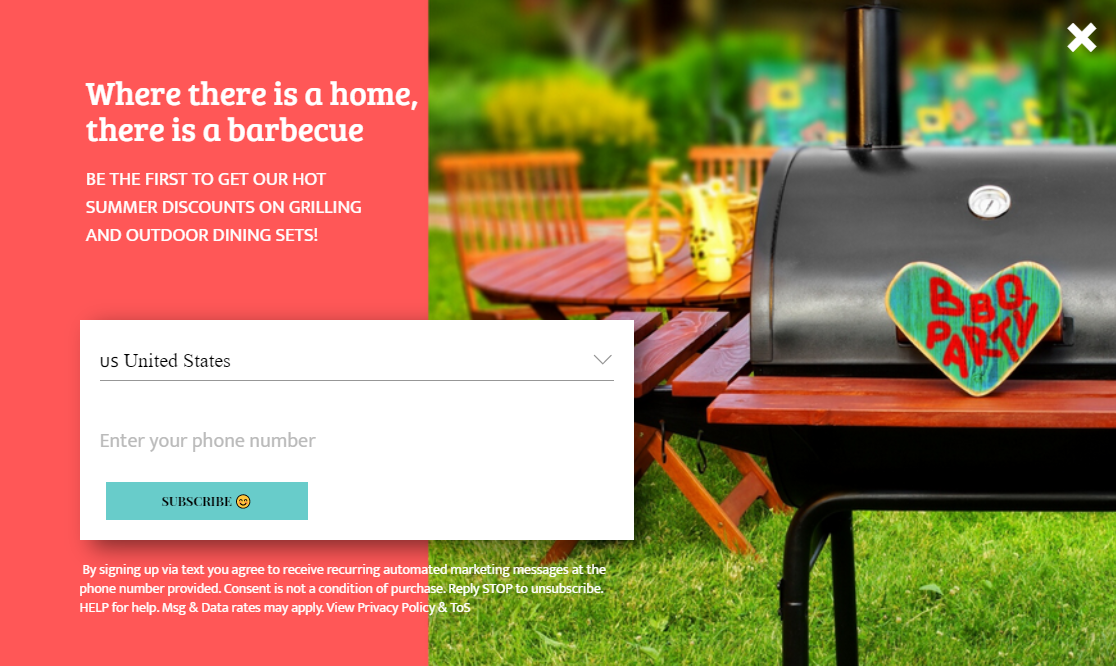 In retail terms, Memorial Day is known for heavy discounts so try to keep up and offer something very attractive as a promotion to your store visitors. To grab their attention and convince them you are the right store to purchase from, set up your pop-ups to appear 20 seconds after visitors have come to your site, so you give them the chance to have a look around and see what you have to offer.
Now that your pop-up is all set, it is time to move further and think about your target audience.

Better Targeting
Having amazing offers, copy and visuals is the foundation of a successful campaign, no matter if it is specifically for Memorial Day. To maximize your chances of success, however, it's essential to carefully decide on who will get your offers. After all, a true Apple fan would never buy an Acer laptop, and vice versa.
To enjoy great campaign conversions, we have developed sophisticated segmentation filters that will help you target customers based on their behavior, purchase basket, even gender.
If you haven't already, try out one of our most powerful features - gender segmentation. Our very own segmentation algorithm analyzes the characteristics of your customers and can claim with over 90% certainty whether a customer is male or female.
For example, try targeting male visitors for products, such as grilling sets, outdoor power equipment, electric tools or storage units, while offering female visitors products, such as outdoor furniture sets, gardening tools, decorations, swing sets, mattresses, etc.
Another very similar and, at the same time, efficient approach might be to send offers to your customers based on past purchases. Here you can try both upsell and cross-sell strategies, or simply use the information you already have on your customers, specifically when it comes to the size of their last purchase.
All this can be easily set up - just check out all available filters in your Lists & Segments Customer Behavior section, such as: Money spent, Ordered specific product/s, Ordered from a collection.
To give another example, you can offer products from your new Lawn & Garden collection to customers who have already purchased a lawn mower from you before. Or discounted bed sheets sets for people who purchased a mattress from your store last year.

Improve Communication
So now that we have gone through ways to better plan your promotions and target your audience, it is time to see how you can make your offers even more relevant to customers!
Our game-changing feature - Conversational Flows will help you add the final touch to the relationship with your customers - personalization! That's right - with these advanced flows you will be able to directly ask your customers questions regarding their preferences such as: would they rather improve their indoor or outdoor space this summer, if they prefer gas, electric, or charcoal grill, what kind of outdoor equipment are they in need of and many, many more!
And here is a Memorial Day - themed example on how to implement conversational flows:

Conversational Flows help brands spark engaging conversations with their customers and send hyper-personalized offers.
Extend Your Sales
When it comes to Memorial Day, most retailers run sales for almost a week after, which gives them the perfect opportunity to drive repeat purchases.
Take advantage of our Post Purchase Upsell automation to catch your customers right after they have made a purchase from you - and give them something irresistible, such as an offer on complementary products, fitted to the value of their past purchase.
Focus the copy on the upcoming summer season, instead of Memorial Day itself (since it might be over by the time they receive it).
For best results, set a second message just a few days later with a slightly bigger discount. This will help you score some extra sales, as some shoppers will wait until the very last moment to make a purchase. And don`t forget to put a subtle hint of urgency, since your offer will soon expire. Here are some suggestions on how to do that for your next campaign: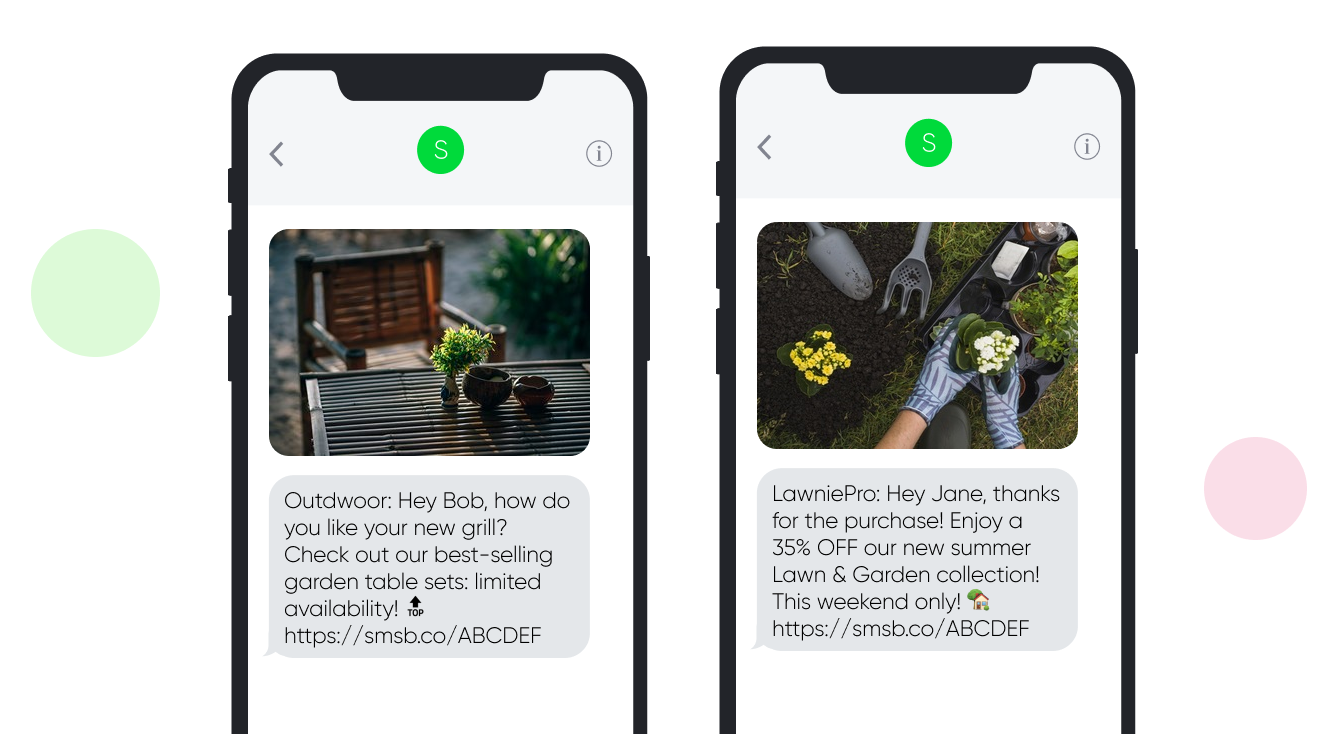 Grab Our Templates!
Our guide on how to set up your Memorial Day campaign won't be complete without giving you some creative ideas for SMS templates.
Take a look at the 11 holiday-themed SMS examples, which we created based on what we just discussed - attractive copy, great visuals, personalized offers, alluring discounts, and let's not forget - a hint of Memorial Day spirit to get your customers in the mood to shop.
We hope you will find our ideas useful and more importantly - they will inspire you to engage with your customers and score some a-May-zing results this month.
But most of all - we hope you have a great Memorial Day time with your families and friends, and let's commemorate together what this holiday is all about:
"How important it is for us to recognize and celebrate our heroes and she-roes!" —Maya Angelou
Mariya Arabadzhieva Todorova
Mariya is a Content Creator at SMSBump with strong passion for writing, crime novels and puzzles. Travel & Gaming enthusiast.
Start growing today
Sign up today and join 90 000+ eCommerce businesses making it big with SMSBump